If you want to improve your guitar playing, you're going to need some help. Since you're reading this article, you've already taken the first step and have won half the battle.
But it isn't everything that you need to do.
Everyone has rules when it comes to guitar playing. Everyone's rules are different. Instead of giving you a further set of rules, we're going to give you some guitar playing tips that will allow you to improve your lead guitar phrasing without altering your personal style in an extreme way.
Tip One: Pay Attention to Note Lengths
If you don't know your note lengths, you don't understand phrasing.
Phrasing all comes down to manipulating note lengths in order to give your playing a different feel. If you want to properly manipulate these notes, you'll need to understand them. The best way to do this is to sit down with a metronome and practice. It may seem boring, but it will be the best way to improve your overall phrasing.
Think of the metronome as your best friend in phrasing. It will allow you to understand the structure of a song based upon the note lengths that it contains. This will allow you to choose note lengths that parallel them in a positive and dynamic way.
Tip Two: Study
If you want to phrase better, you need to hear good phrasing.
Try listening to different types of music. No one type of music is better for phrasing than another. They all have their own different takes and styles of phrasing. Try sampling from each and see what works best for you.
Some players of different genres with great phrasing that we recommend are John Petrucci of Dream Theater, Ty Tabor of King's X, Allan Holdsworth, Al Di Meola, Jesse Cook, William Ackerman, and Jeff Loomis of Nevermore.
These are some of the best modern guitarists and most well-known musicians. Their style all comes from their ability to phrase properly; picking and choosing when and where a solo fits, and especially how it fits.
Tip Three: Practice
You will never read one of our tip lists that leave out practice.
Why?
Practice is the best way to improve your playing. It can take an average guitarist and make them a phenomenal player. It's all about your dedication to the instrument. If you spend more time fooling around on your guitar than practicing your techniques, you will spend more time at the same level of guitar playing.
Try to set a practice schedule and adhere to it, rain or shine. If you are tired, don't blow off practice; treat it as a second job. If you are a serious musician, the only way you'll improve is by doing such.
Make a guitar practice outline. Start off with a warm up lasting around ten minutes, then move on to some simple exercises. After your digits are limbered up, work on some techniques. Always keep an eye on form, and never go faster than you are currently comfortable with. Bad note values lead to bad phrasing, so keep an eye out. Good luck!
Intuitive Lessons For Guitar Players of All Levels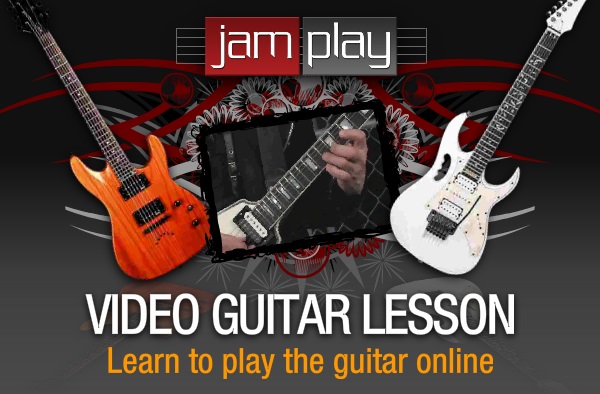 Jamplay is the BEST online guitar lesson website that offers step-by-step videos in hi-def resolution. They cover EVERY genre of guitar styles and have comprehensive content for guitarists of any level of skill.
Jamplay also showcases a growing archive of video lessons that is updated regularly. What's more, they also offer detailed tutorials for members to learn well known songs with the help of precise, dynamic tabs and song visualizations.
p.s: We have negotiated a wonderful deal for our readers. Get your exclusive Jamplay coupon code here…
Related Articles