Many years back, the prospect of learning how to play the electric guitar really revolved around finding a great instructor. Oftentimes, it also meant paying over the odds for electric guitar lessons and having to incur additional costs like traveling to classes out of town.
Since then, so much has changed with the advent of Internet technology. Just like how our mobile phone technology has developed, the means of education and communication had seen unparalleled evolution in recent times.
Did you know that you can now get step by step instructions at the click of a mouse button? I am not talking about some shady or amateurish character posting stuff on Youtube or Vimeo. Instead, I am referring to full-blown materials with professional quality and a similar experience to taking private lessons.

Should You Go Online Or Stick With a Real Life Teacher?
This is one of the most common questions I get asked frequently. Should you choose between online lessons or one-on-one teacher/student classes? My answer is to do BOTH if you have both the time and resources. Understandably, most people would only be able to choose one of these methods due to some constraints. However, if I had to choose between one over the other, I advocate going online.
Believe it or not, online electric guitar lessons have come a long way. The really great ones have been professionally produced with on-screen notes and multi-angled camera views. Because of this, they can offer you a perspective that a real-life teacher cannot give you.
You are also at the liberty of repeating or rewinding any specific parts of the lesson that you do not understand. Obviously, this is not something you could do infinite times with a real-life teacher.
On top of that, online lessons only cost only a fraction of what a private teacher would charge and you can easily access them in the comfort of your home and convenience. Another factor that many people tend to overlook is the ability to learn and progress at your own pace.
My Own Experience Back in the Days When the Internet Began
I was enrolled in the evening class of my local music school when I first started learning the instrument. Honestly speaking, I was a meticulous student who did my weekly "homework".
After a little while, the evening class I was in was moving far too slowly and I started to set goals to learn new stuff via the internet every week.
To make things fun, I gave myself "missions" like learning a new guitar scale or trying to figure out how to play a riff for the duration of a week. And to be perfectly honest, things didn't go as smoothly as I wanted them to. I often met roadblocks in my learning and frequently had more questions than I have answers for.
With a list of questions I have difficulties in, I approached my private tutor for advice and a review of what I learned from online sources. In this process, I make full use of the fees paid to my physical teacher and I also have better control over what to learn and when to learn.
Today, the Internet is totally different from it used to be. Websites like Jamplay and GuitarTricks offer awesome learning experiences with their HD videos and communities. My development as a guitarist was shaped by both my thirst for knowledge and the resources that were available to me at various points in time.
Hopefully, GuitarPlayerWorld.com can offer you the same level of resources to better your skills the same way the online community provided for me years ago.
Electric Guitar Lessons For Beginners And Advanced Players:
#ad – Learn From World Famous Guitar Players Directly at Jamplay!
Jamplay offers you the opportunity to learn from some of the best guitar players on the planet with teachers like Bumblefoot (Guns & Roses), Mike Mushok (Staind), Glen Drover (Megadeth) and more…
#1 – Do You Ever Wonder How the Electric Guitar Works?
I know most guitar players don't have the slightest clue about the inner workings. In this lesson, we dissect the electric guitar and reveal how the insides of the instrument work.
#2-  Power Chords: The False Chord?
Power chords are sometimes called the false chord or 2 finger chord. For people who love rock and heavier genres, this is a chord pattern you need to get familiarized with.
#3 – How to Get the Best Tuning Stability Possible
Playing an instrument that's out of tune will not only make your music sound weird, it would also hamper your ear training efforts and growth as a musician.
#4 – Tips to Reduce Feedback and Unwanted Noises When You Are Playing
First of all, no one likes listening to noise. Yet, many guitar players face the problem of creating accidental noises due to poorly executed techniques.
#5 – Inspirational Guitar Players That Had Shaped the Industry
In this article, we review some of the most influential guitar players who had shaped our musical history and take a look at some of their famous music pieces.
#6 – Understanding How the Selector Knob Switch Works
Most electric guitars come with a selector knob that controls the types of pickup configurations being used. If you care about your tone, find out more details in this article.
#7 – 3 Steps to Buying a Guitar Amplifier You Should be Aware Of
A good amplifier is really important for electric guitar players. Get insider tips to selecting a great amp and find out how to make smart buying decisions.
Learn How to Play the Electric Guitar With Step By Step Guides
Instructions For Every Guitar Style And Level of Playing Imaginable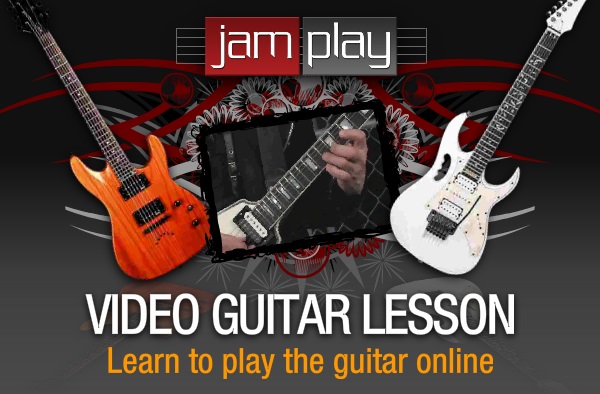 Jamplay
is the
GREATEST
online guitar lesson resource that offers step-by-step videos in HD. They cover
ALL genres
of guitar styles and have exhaustive content for guitar players of any skill level.
Jamplay also features a growing collection of instructional videos that is updated each week. Furthermore, they also offer detailed tutorials for members to learn well known songs with the help of accurate, interactive tablatures and song visualizations.
p.s: We have created a special deal for our readers. Get your exclusive Jamplay promotional code here…
Related Articles