The key to longevity is consistency. Keeping your equipment running consistently requires proper maintenance.
Take for instance your car; you change the oil every three thousand miles, or every six months.
This helps things to keep running smoothly, making sure you get the most out of your engine.
So why would a guitar be any different?
It wouldn't.
Having proper guitar maintenance helps you extend your guitar's lifespan and allows you to achieve maximum performance from the instrument.
A Guitar Is Not As Sturdy As You Think It Is
The guitar is actually a sensitive instrument made of wood and it will eventually get weathered down with prolonged use; just like your old wooden furniture at home.
Depending on the climate the guitar is stored in and used, the toll on your guitar can vary from one person to another.
Some common problems that guitars display with age is wood discoloration and the warping of the guitar neck. Sometimes, these problems can manifest into a serious problem that warrants a visit to the local guitar repairman.
To prevent these problems from surfacing, there are several maintenance tips you can perform easily. In the long run, this would not only help you save money but also keep your guitar in tip-top condition and playability.
Check out some of the articles below for information on various guitar maintenance topics. If you are keen to learn DIY guitar setup and simple fix-its, check out Learn And Master Guitar Setup for step by step video tutorials.
Articles on Essential Guitar Maintenance Tips And Care:
#1 – Does Boiling Guitar Strings Help?
When it comes to money saving tips for budget guitarists, you probably heard about guitar strings boiling to extend their lifespan. Is it true that it works or simply a myth?
#2 – Proper Methods for Detuning a Guitar
When changing strings or setting up your guitar to a new tuning, there are some steps and precautions you need to take to avoid damaging your instrument.
#3 – What You Need to Take Note of When Travelling With Your Guitar
Sometimes, it is unavoidable for people to bring their guitars on road trips or overseas travels. Find out more about the things you need to be aware of when bringing your guitar on long haul journeys…
#4 – How to Clean Your Guitar in a Few Steps
If you want an instrument that is playable and has a long lifespan, regular care and maintenance to keep it clean is a very important factor you need to bear in mind.
#5 – Guitar Amplifier Maintenance for Longevity
Taking good care of your guitar amplifier will not only prolong its lifespan, it will also maintain the quality of its sound output. Find out the ways where you can perform simple maintenance work on your amp here…
#6 – Care and Maintenance of Guitar Strings
If you don't want to spend money or go through the hassle of changing guitar strings every week, you need to learn how to take care of your strings so that they don't rust or lose their tone.
#7 – How Often Should I Change My Strings?
This is perhaps one of the most frequent questions that I get asked by readers. So, how do you know when a string changing job is due? Find out more here…
#8 – Guitar Humidification to Protect Your Instrument From the Environment
For long term storage of your instrument, humidification is one of your greatest enemies you need to be aware of. Find out the methods you can use to create a safe storage environment here…
#9 – 5 Tips to Prolong The Lifespan Of Your Guitar
Get better mileage out of your guitar and extend its lifespan by making use of these 5 tips to keep in tip-top conditions.
How to Take Care of Guitar And Perform Routine Maintenance…
Learn to Setup Your Own Guitar Anytime, Anywhere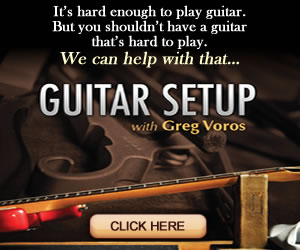 Learn And Master Guitar Setup & Maintenance is a comprehensive step-by-step video course that shows you how to setup your guitar at home using simple tools.
You will be able save time and money by learning to make your own adjustments for maximum playability and better tone.
Related Articles