Tired of the amount of time and money spent looking for professional private lessons? What about having to fix yourself to a schedule or wasting precious time traveling just to attend guitar lessons? The age of internet technology has completely changed this and made learning the guitar convenient.
Currently, there are an overwhelming number of guitar lessons and courses on the internet. However, one KEY problem is that most of these online guitar lessons are poorly structured and too scattered to provide effective learning for guitarists.
GuitarPlayerWorld's goal is to provide comprehensive and organized content for guitarists and improve their playing skills. On top of that, we also review online guitar courses and software that would supplement the free online lessons taught here. We hope that these reviews would help our readers make informed choices on various guitar courses and software.
Every month, we receive tons of requests from people and companies to review their products. Rest assured that any product recommended by GuitarPlayerWorld is of the highest standards and are products that we would personally use ourselves.
Read our reviews of the BEST and the WORST products from each category that we had ever tested here.
Instructional Guitar Courses Reviews
1. Jamorama – Jamorama is one of our highly recommended courses that is suitable for beginners and intermediate players. For a limited time, you can get an exclusive 25% discount for GuitarPlayerWorld's visitors.
2. Jamplay – One of the largest online video lesson sites with high quality lessons taught by professionals and famous guitar players. Get your Jamplay coupon code here and enjoy a MASSIVE 10% discount for the lifetime of your subscription.
3. Guitar Tricks – They are one of the pioneers of online video instructions with more than 45 professional guitar instructors. Today, they have an insanely huge repository of over 5,000 lessons.
4. Learn And Master Guitar – Learn And Master Guitar is the grand daddy of home-based self study courses. This award winning course packs serious content for guitarists who are looking for a convenient and affordable way to learn the guitar.
5. Guitar Scales Mastery – Designed to help you become a better lead guitarist, Guitar Scales Mastery is a system that shows you how apply scale knowledge into real-world applications.
6. Play Worship Guitar – Undoubtedly the best online course for people who are interested in learning worship guitar. The program also provides one of the easiest ways for beginners to start playing Christian songs and strumming along to powerful tunes.
7. Beginner Guitar System – A DVD guitar course that offers you value for money. Find out more details about Nate Savage's DVD program in our review.
8. Adult Guitar Lessons – A course designed by Keith Dean for adults and grown ups. Good content and material that will keep you busy for months to come. Click here for an overview of other great courses designed for grown-ups.
Inferior Guitar Courses to Avoid
1. Guitar Success System – Eric Sloan – A course that is overhyped. We recommend that you avoid this course as it falls dangerously short of delivering on promises.
2. Guitar Hotshot – On first look, Guitar Hotshot seems to provide you with more than 40 hours of intensive guitar lessons. Once you start looking at details and work through their material, you will only experience disappointment.
3. Guitar Superstars – This is an online program that claims to be the only site allowing you to select your teacher. We all know that isn't true as there are many other sites that are better worth your time and money.
4. Learn Guitar Fast And Easy – A disappointing program with relatively more expensive fees compared to other sites that deliver better content. Enough said.
Blues Guitar Lessons Reviews
1. Blues Jam Session – For blues musicians, this is a highly recommended program with allows you to jam along to more than 60 backing tracks. Great value for money!
2. Blues Guitar Blueprint – A short course that offers 4 DVDs, 2 CDs and a workbook. It is currently no longer available.
3. Learn And Master Blues Guitar – From the creator of award winning Learn And Master Guitar course, Steve Krenz has come up with yet another awesome program to help guitar players master the blues.
Metal Guitar Lessons Reviews
1. Learn Heavy Metal Guitar – Tearing It Up – If you are into heavy metal guitar, Phil Wheatley's course is a great program to help you jumpstart your guitar education.
Guitar Software Reviews
1. Guitar Pro 6 – This is hands down the BEST guitar tablature software ever to be created. 5 Stars out of 5 Stars !!!
2. Riff Master Pro – This handy software slows down guitar solos and music to help you learn music by ear!
3. Ear Master – Ear Master is software that is widely used by professionals and education institutes to help musicians develop a better ear.
Guitar Setup And Maintenance
1. Learn And Master Guitar Setup & Maintenance – This is an in-depth, step-by-step course on how to set up your guitar in your own home using a few easy-to-use tools.
Songwriting Courses Review
1. Superior Songwriting – From the makers of Jamorama, Superior Songwriting is a great resource for musicians who want to learn the art of music composition.
2. David Jasmine's Songwriting Science – A songwriting course that's geared towards commercial intent and huge promises of helping you make it big.
Intuitive Lessons For Guitar Players of All Levels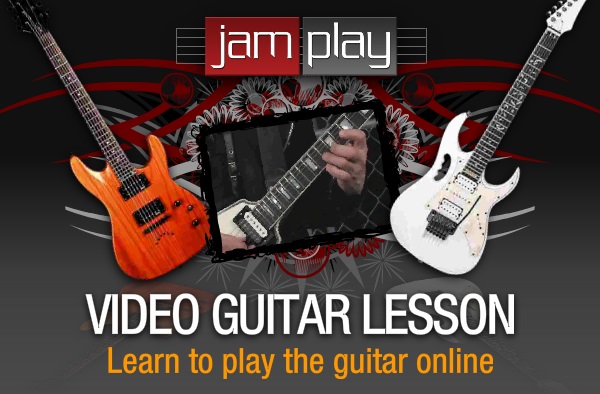 Jamplay is the BEST online guitar lesson website that offers step-by-step videos in hi-def resolution. They cover EVERY genre of guitar style and have comprehensive content for guitarists of any level of skill.
Jamplay also showcases a growing archive of video lessons that is updated regularly. What's more, they also offer detailed tutorials for members to learn well known songs with the help of precise, dynamic tabs and song visualizations.
p.s: We have negotiated a wonderful deal for our readers. Get your exclusive Jamplay coupon code here…
Related Articles