Like many other guitarists, I often wondered whether jazz music is the right cup of tea for my liking. I fondly remember my teacher telling me, "You need to look at jazz as a form of approaching music. If you are into composing your own music, you need to learn jazz!"
So, what exactly is jazz? Jazz comes in many forms which include styles like: blues, Bossa Nova, Foxtrot and many others. The essence of Jazz lies in the improvisation and the musician's input into the piece of music.
A lot of people wonder whether learning jazz might be right for them, but I can tell you right here and now, that if you're into composing music, LEARN JAZZ! Jazz has become a genre in itself, but if we analyze it thoroughly, it's not really a genre like Swing or Rock & Roll. It's more a way of approaching music.
What is Jazz?
When seasoned players speak of jazz, they are actually referring to a unique approach to music. Jazz comes in many musical forms including Swing, Foxtrot, Blues, Bebop, Bossanova, and many others, but what makes it truly 'Jazz' is the art of improvisation and control over music. Techniques like chord substitution and comping are a staple in Jazz genres and it is a great thing because you can also use these techniques on other forms of music.
Are There Any Other Benefits?
Personally, I feel that this genre of music can develop in your musical creativity and also improvisational skills. Believe it or not, most guitar players have no understanding of music harmony and they get stuck in a box when the need to improvise arises. With jazz, you are basically forced and trained to think of harmony when you play your guitar.
Besides that, there are also advanced concepts like guitar modes that you can utilize to convey your emotions through the song. Imagine if you were able to have direct control at your fingertips and play notes as you mean them. Well, that's one of the benefits you will get with jazz guitar lessons.
Of course, learning how to play jazz guitar is not easy. Very often, jazz guitar lessons can be confusing because of the amount of music theory involved and awkward chord names. If that isn't enough, jazz music sometimes features odd timings which might take some time to get used to.
That's why we are here to help. To address some of the most common questions that people have, we hope to provide lessons to help people get started with jazz guitar. To see the full list of lessons, scroll down to view the archive…
Lessons to Help You Understand And Learn Jazz Guitar:
#1 – Introduction to 2-5-1 Jazz Chords
In this introductory lesson to the world of jazz music, you will learn the most commonly used 2-5-1 chord progression and use it as a starting point to jumpstart your progress.
#2 – Common 7th Guitar Chord Voicings
In this lesson, we take a 7th chord that is typically found in jazz music and show you how to spice it up through the use of voicings.
#3 – Common Jazz Chord Progressions That Define the Genre
Besides the 2-5-1 progression, we take a look at other commonly used progressions that are found in jazz pieces.
#4 – Jazz Blues Rhythmic Variation
Today, we will experiment with some jazz blues rhythm variations and show you how to use them to create interesting patterns for chord strumming.
#5 – Get These Jazz Guitar Licks Under Your Fingers
Whether you want to impress your friends, band mates or family members, these jazz licks will help you sound like a pro and showcase your abilities.
#6 – Jazz Chord Substitution Theory And Usage
The possibilities are limitless when you incorporate chord substitution to recreate chords. In this lesson, we show you how to experiment with this concept.
#7 – 5 Jazz Guitar Songs You Need to Learn
When it comes to finding inspiration and searching for new material to work with, nothing beats the idea of learning new songs.
#8 – How to Get a Jazz Guitar Tone
Like all other styles of music, you need to find your "jazz tone" by experimenting with the knobs on your amplifier and guitar.
#9 – How to Comp Chords With Ease in Jazz Genres
Comping is a staple part of playing jazz. In essence, you want to leave out the fifth and the root notes when you play a comped chord.
#10 – Rhythm Changes in Jazz Guitar
In this lesson, we show you how to deal with rhythm changes in jazz pieces and how you can improvise correctly over such transitions.
#11 – Best Jazz Guitar Albums to Listen to
Here's a list of recommended listenings where you get to hear the best jazz music ever to be recorded.
Beginner Jazz Guitar Lessons to Help You Dive Into the Music Style
Hands Down The Best Program Ever to Be Created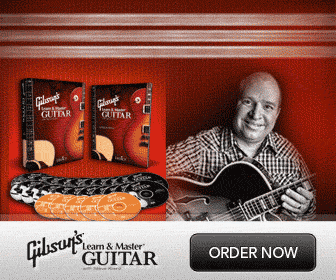 For the most effective step-by-step guitar method, we highly recommend Gibon's Learn & Master Guitar course. This award winning DVD program is currently on a 3-day sale and you get to save $100 off the usual price today!
Click here to learn more details and purchase the course before this promotion ends…
Related Articles