There are tons of places to learn to play guitar online. However, this may not be the case when you are looking for Christian guitar lessons or worship guitar classes.
The reason is that a lot of people hold their faith very close to themselves and sometimes religion can be a touchy issue with some secular songs that can be offensive to certain people.
With that being said, due to the popular demand from some subscribers of our newsletter, we had decided to include some sections of the website to touch on Christian guitar lessons and worship guitar.
First of all, what are the benefits of learning guitar online with gospel or praise music? Most of the songs in praise music and the Christian genre tend to be inspiring and uplifting music.
Secondly, worship guitar songs are usually very simple to learn as they revolve again certain sets of chords and this enables songs to be picked up easily.
Thirdly, learning worship guitar might enable you to play in the church band and lead the worship for praising god. Once you are able to play the chords, strum the guitar and sing songs of god, it could change your prayer and worship life for the better.
For the majority of people who want to learn Christian guitar music, it might cost a small fortune to hire a private guitar teacher. However, there are other alternatives to private teachers such as online courses that you could explore.
Besides significantly lower prices, they can also be very effective in helping you learn the guitar. With a little dedication and practice, the right course can help you improve and strum along to your favorite songs in no time. At GuitarPlayerWorld.com, we have compiled and created some lessons that will help you understand and build some foundational skills. We hope you will enjoy them…
List of Christian Guitar Lessons to Get You Started:
#1 – Learn to Play "Here I Am to Worship" On Guitar
In this tutorial, you are going to learn one of the most popular Christian songs ever to be written. With only 4 chords in the song, this is a song that players of all levels can easily pick up.
#2 – Good Christian Bands to Listen To
In this article, we review the music scene of Christian music. Find out who are the best Christian bands worth listening to.
#3 – Easy Christian Guitar Songs to Learn
I know most guitar players only care about learning their favorite songs and being able to sing-along as they strum. In this lesson, we show you a list of easy Christian songs you can easily pick up.
#4 – Christian Guitar Riffs
It's true. Expressing your faith through music can sometimes be a challenge. Find out how you can inject creativity into your guitar playing by using some simple riffs.
Everything You Need to Become a Great Guitar Player…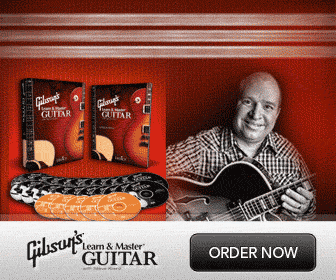 For the most comprehensive step-by-step guitar training program, we highly recommend Gibon's Learn & Master Guitar course. This award winning DVD course is currently having a 3-day sale and you get to save $100 off the usual price today!
Click here to find out more information and get the course before this promotion ends…
Related Articles