Interested in learning bluegrass guitar? If you are, here's the place to get you started on this wonderful genre of guitar playing.
Bluegrass music is a genre that branched off from country and western music. The signature sound is heavily dependent on instruments and does not place too much emphasis on the vocalist as opposed to other styles of music.
Typical instruments include the acoustic guitar, banjo, fiddle and bass. As with jazz music, the vocalist is seen as just another instrument in the band. One unique characteristic of bluegrass music is that everybody in the band is expected to play a solo and everybody takes their turns to solo at some point in time.
Now, you might be wondering why we would place a section of the website dedicated to bluegrass guitar lessons although this is not a mainstream genre of music that most people play. The reason is simple. We always recommend diversity in understanding other styles of music because it enables you to widen your sound and general knowledge of music.
In short, learning to play bluegrass music allows you to recognize the different chords used in a song and gives you a chance to expand your improvisational skills. Being able to play bluegrass would also help you gain a mastery of other genres such as jazz.
On top of that, bluegrass music also employs some of the most challenging technical techniques that would develop your right hand speed. Believe it or not, everything is interlinked. This in turn can help you out in music such as rock and metal even though they aren't closely related.
Learn How to Play Bluegrass Guitar Today!
#1 – Basic Rhythm Lesson For a Taste of Bluegrass Music
The backbone of bluegrass music lies in its signature rhythm and iconic strums. In this lesson, we will show you how to play along to some basic rhythm patterns.
#2 – 3 Songs To Help You Learn Speedy Bluegrass Licks
Fans of bluegrass genres will thoroughly enjoy this lesson where we teach you how to play licks with speeds through concepts found in 3 popular songs.
#3 – Popular Forms of Bluegrass Turnarounds
A turnaround is basically a repeat of a chord progression that has just ended. Find out more about the frequently used bluegrass turnarounds in this lesson…
#4 – Crosspicking Combinations, Patterns And Styles
Different genres of music have specialized techniques that define the kind of tone and sounds made from the guitar. In bluegrass, crosspicking is one such technique that is an essential skills for you to learn.
#5 – Country Guitar Styled "Chicken Picking"
Contrary to popular beliefs, country music isn't a one dimensional form of music. In fact, the concept of chicken picking is enough to make any new player go WOW.
#6 – Slide Guitar Basics And How to Do It Right
Regardless of the type of music you play, the use of slides can help broaden your musical knowledge and take you into a whole new world of experimentation.
Your Free Resource to Becoming a Bluegrass Guitarist
Hands Down The Best Program Ever to Be Created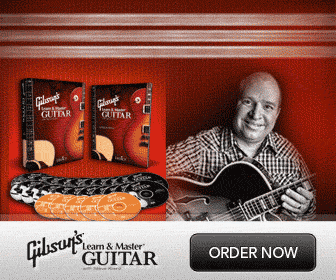 For the most effective step-by-step guitar method, we highly recommend Gibon's Learn & Master Guitar course. This award winning DVD program is currently on a 3-day sale and you get to save $100 off the usual price today!
Click here to learn more details and purchase the course before this promotion ends…
Related Articles