Disclosure: Please note we may generate revenue through the links/ads on this page and throughout this site. That said, we do NOT accept paid reviews and take great pride in providing honest opinions and objective information on products/services. Put simply, if a product isn't good enough for us to personally buy, we won't recommend it.
When Gibson endorses a product, you have to wonder what made that product so worthwhile to a major company.
That being said, just because Gibson endorses a product, doesn't mean it is a great product (as the Gibson AL-5 mandolin has proven).
In this Learn and Master Guitar review, we'll see if Gibson took another flop, or if they truly struck gold when teaming up with Legacy.
This set contains twenty instructional DVD's, five jam along CD's, a one hundred page lesson book, and access to an online student support site.

---
Here's our review of Learn And Master Guitar instructions:
First, let's talk about the DVD's. Twenty DVD's is nice, but quantity never beats quality. In this case, Learn and Master Guitar offers both. The DVD's video quality is top notch, and for all of you definition addicts out there, they are all shot in HD.
Steve Krenz knows how to teach a lesson; he breaks down each lesson step by step so that you can see what is really going on in each lick and technique. This makes it easy for viewers to correct any mistakes in form they may be making.
The nicest part about the DVD's is that there are no mumblers, which is a great change in direction from the countless DVD sets where the instructors sound as if they are speaking through a mouthful of marbles.
Steve Krenz is well spoken and easy to understand, which makes the learning experience that much easier. Another added plus is that he actually knows how to play the styles he is teaching. Too many teachers seem to think that simply copying a lick makes them an expert on a style, while Steve has the skill to back each and every bit provided.
The lesson book is well made, and outlines each and every lesson in full detail. This means that those of you guitarists who have trouble learning by watching can read the material along with the lesson, including full tablature.
The five jam along CD's are more a bonus than anything else, but they are also great tools to help you push your skills to the next level. Learning techniques is one thing, but being able to put those techniques to use is what guitar is all about. The jam along CD's are of professional quality, and more importantly they leave you room to improvise, which will help you take your knowledge and build further skills from it.
Finally, the online support site. Quite simply, it works well. You can get help on each lesson, talk to other members, and more through the community they have created.
You can visit the website for a special $100 discount when you access the course by clicking on the special link below:
*** Click here to find out more details on this amazing course…
So what is the downside to the course?
The price. While you do get a lot of material, the set is fairly pricey for most musicians. That being said, if you believe that proper learning materials are worth the extra cash, then this course will be the perfect set for you to learn the guitar, as it will not only guide you through the beginner stages, but well into the advanced stages of the instrument as well.
Well, if you look at it from a long term view, you are investing yourself in a year's worth of instructions for $149 instead of forking up $200 per month ($2400/year) for a private instructor. On top of the savings, you get to keep an awesome resource that you can use for reference for years to come.
That makes the best economic sense, doesn't it? Our review of Gibson's Learn & Master Guitar has been nothing short of awesomeness. We highly recommend this great guitar DVD home study course to anybody who seriously wants to learn the guitar.
Be prepared for hours of fun in learning to play and jamming to the great music…
Here's a Quick Recap Inside the Course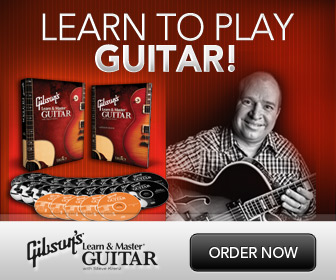 • 20 Full Length DVDs for hours of practical instruction
• 5 Jam Along CDs with over 120 audio tracks
• Detailed 110 page coursebook & access to an online support community
• Easy to follow on-screen music and key ideas
• Essential guitar techniques explained thoroughly and simply
• 60 days no questions asked money back guarantee.
Where From Here?
We highly recommend Gibson's Learn & Master Guitar. Take advantage of the MASSIVE $100 Off SALE today!
* This special offer is available for a limited time only.
Once the 3 day sale ends, the $100 discount is gone forever.
---
Still unsure? Check out the screen shots from lessons in the program.
Easy to navigate menu selections and easy to follow guitar tabs during lessons.
Detailed chord diagrams and multi-angled clear fingerings
Here's a Sample Lesson on Strumming From the DVD Course
Learn And Master Guitar
Achieves a Good Rating of
5
/5 – Reviewed by
Robert Ewing