Let's be completely honest with ourselves, one of the main reasons why we picked up the guitar is to be able to play songs (be it an original creation or a cover of your favorite band's song). When I first started to play guitar, my biggest inspirations were my childhood heroes; Joe Satriani and Steve Vai. I wanted to emulate them and possess the skills that they have.
Foolishly, I tried to learn really technical stuff when I couldn't even fret a barre chord correctly. Needless to say, I didn't have any success in learning their songs. Back in those days, I often got stuck in some really difficult parts of a song and instead of trying to address the problems, I hopped onto the next song.
This vicious cycle continued for almost every song I tried to learn and I grew so frustrated with myself, I actually gave up playing the guitar for a couple of months. The entire experience was like trying to drive an F1 car without even having a car license. Luckily, I met a great teacher who encouraged me and gave me some really useful advice.
You See, Everybody Has to Start Somewhere
My teacher used to tell me, "You need to learn to crawl before you can walk. And before you start running, you need to master the art of walking." For a beginner, you shouldn't be too ambitious and should start with easier songs. For example, both Oasis and Howie Day have some great 4 chords songs that can strike an instant chord with people.
They aren't too hard and yet can still offer a certain degree of challenge to make the experience fun and enjoyable. The key here is that while learning to play songs on the guitar, you will also learn techniques, expand your chords vocabulary and develop your rhythms all at the same time.
Ok, How Does One Really Get Started?
Sure, you could download tabs, watch Youtube videos or even try to get your friend to teach you what they know. Back in those days, the best help that I got was tab books and guitar pro tabs available online. Other methods of learning songs were basically via a private teacher or other paid avenues.
Today, you can easily find hundreds of free lessons on video hosting sites like Youtube or Vimeo. A word of caution here is that there are both low quality lessons taught by an unqualified teacher and great instructions offered by individuals. How do you filter out the garbage from the goodies? 
The pitfall here is that not everything you see or hear online may be accurate. Not only will such instructions frustrate or sometimes teach the wrong stuff, but they can also potentially hamper your growth by if you pick up bad habits along the way.
We Show You Some of the Best Resources Online!
In this section of the website, we compiled a series of step by step tutorials from various sources across the Internet to help you build up your song library. Some notable mentions include professional tutorials from sites like Jamplay and GuitarTricks.
The reason that we recommend them is that they do a really good job in engaging and transferring knowledge to the student. What makes them stand out is that they also specialize in breaking down entire songs into manageable portions for students and offer detailed resources like on-screen fretboards or printable tabs.
Enjoy…
Learn Guitar Songs With Step-By-Step Instructions:
ad – Jamplay Video Lessons
Jamplay offers in-depth tutorials on guitar lessons and boosts a huge library of songs where instructors show you how to play entire songs note-by-note. Learning songs doesn't get any easier than this.
#1 – The Trooper by Iron Maiden *Popular
"The Trooper" is an all-time favorite song written by Iron Maiden. With kick-ass riffs and powerful rhythms, this song is the whole package. To make things even better, it isn't that hard to play!
#2 – Back in Black by ACDC
ACDC was one of the greatest rock bands in history and Back in Black is one of their best hits. Embedded with great sounding riffs and melodious licks, this song is the BOMB.
#3 – Big Yellow Taxi by Joni Michell
Big Yellow Taxi is a song that has seen a recent revival with many artists such as Counting Crows doing covers of it. We show you how to play Joni Mitchell's hit in detailed step by step instructions.
#4 – Bring Back the Bomb by GWAR
Who else to better learn the song from other than the band's guitarist? In this special lesson, GWAR's Flattus Maximus shows you the ropes to playing Bring Back the Bomb.
#5 – Cannonball Rag – The Ever Classic Tune
If you haven't heard this song before, you are probably living on the moon or under a rock in some isolated desert. Jokes aside, if you haven't, you don't want to miss this. Check out the various types of playing methods used in this evergreen song.
#6 – Windy and Warm by Chet Atkin
If you are into classical guitar and fingerpicking, Windy and Warm is a great tune to learn. With a little practice, you could start entertaining your friends at gatherings.
#7 – Landslide – Acoustic Version by Fleetwood Mac
Fans of Stevie Nicks and Fleetwood Mac, you are probably familiar with their trademark song Landslide. This acoustic rendition of the song is done immense justice with Jamplay's detailed tutorials and instructor.
#8 – Green Manalishi by Judas Priest
Rock and metal lovers, get your axe ready! This piece by Judas Priest will get your adrenaline pumped up with fast and furious action on the guitar.
#9 – Demons by Darkest Hour
Not for the faint hearted or newbies. This hard core song will give you a great night of head banging with lightning-fast riffs and loud rhythms.
#10 – Aqualung by Jethro Tull
Another lesson for a classic song of the past. This rock song brings back fond memories of the 90's and will leave you wanting for more.
#11 – Iris by Goo Goo Dolls *Popular
One of the greatest hits of all time. Iris is a song that has topped charts around the world and is frequently heard on the radio. There is something mystical about the melody which always leaves people wanting more.
We highly recommend Jamplay as the source of your holistic guitar education. Besides having the largest database of well-known songs, their high resolution videos and style of teaching receives a 2 thumbs up from the editors of GuitarPlayerWorld.com.
If you want to see us cover a specific song title, feel free to leave a comment below. Once we see enough requests on a specific title, we will make a video lesson about it and post it here.
Simple Songs That Can Help You Expand Your Music Repertoire
Jamplay – Awesome Teachers, Excellent Video instruction And Community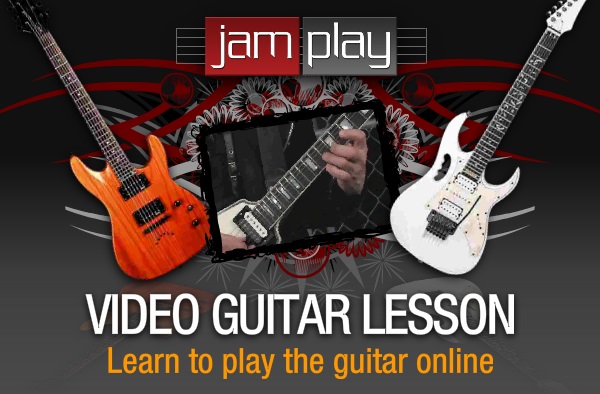 Jamplay is the LEADING online guitar lesson website that offers step-by-step videos in high-definition. They cover EVERY genre of guitar style and have comprehensive content for guitar players of any skill levels.
Jamplay also showcases a continuously growing archive of instructional videos that's updated weekly. What's even better, they also offer indepth tutorials for members to learn popular songs with the help of precise, dynamic tabs and song demonstrations.
p.s: We've arranged a special deal our readers. Get your exclusive Jamplay promotion code here…
Related Articles