What is your reason behind learning to play the guitar? Are you learning the guitar for the fun of it or do you want to impress your friends/family by belting out songs? Perhaps you want to learn guitar as a resolution to picking up a new skill.
Whatever your reasons are, you will find it easier to progress and see improvements by making use of good instruction methods. In my opinion, online video guitar lessons are the best way for anyone to learn the guitar effectively; anytime and anywhere.
We live in a world of information technology. Teaching yourself to play guitar is no longer a thing of the past and you can drastically reduce your learning curve with the correct resources. Not only will you be able to rewind or forward to any parts of a lesson, but you can also learn conveniently in your own time. And this is one of the main advantages of video-based learning compared to classes conducted by a private teacher.
Lots to learn at your own pace and at a level comfortable for you.
I love the variety of teachers and genres available as well as the different levels of lessons so you can grow as a musician at a pace comfortable for you.
In today's modern world, accessing guitar instructions on videos can be easily achieved with an Internet connection on sites such as Youtube. However, I want to leave you with a note of caution; not all tutorials that are uploaded by individuals may be effective or even teach the right stuff.
The worst thing that could happen with sub-standard lessons is that you pick up bad habits which hamper your progress instead of helping you develop the right fundamentals. The point here is that you should do your own due diligence in finding trustworthy resources.
Here at GuitarPlayerWorld.com, we had worked with various partners to bring to you top quality video instructions. Regardless of whether you are a beginner, intermediate or advanced player, there are tutorials that are specifically designed for you. Check them out below…
Guitar Lessons on Video:
#1 – Basics of Electric Guitar – The Nuts & Bolts Explained
In this video lesson, you will learn what the various switches and knobs on your electric guitar do. On top of that, you will see demonstrations for holding the instrument correctly and how to position your hands at ideal locations.
#2 – Learning the "A" Chord on Your Guitar
Get a complete lesson on how to play the A chord with indepth explanations and fingerings to adopt. If you are a beginner, this is a lesson you don't want to miss.
#3 – Partial Capo for Total Guitar Beginners
The partial capo is your fast track to begin strumming along to your favorite songs. If you are looking for a "cheat code" to play one-finger chords, be sure to check this tutorial out…
#4 – Guitar Left and Right Hand Synchronization
Synchronizing your hands is one of the most crucial pre-requisites you need if you want to play fast and learn the various guitar techniques. This video lesson will not only help you build finger dexterity, it will also show you exercises you can use for warm ups.
#5 – Guitar Harmonics – Held & The Millimeter
Besides artificial and natural harmonics, there is another type of harmonics called the held/millimeter that I want to introduce to you in this lesson.
Intuitive Lessons For Guitar Players of All Levels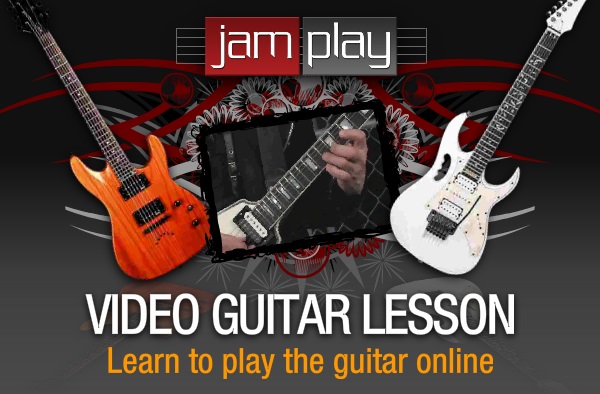 Jamplay is the BEST online guitar lesson website that offers step-by-step videos in hi-def resolution. They cover EVERY genre of guitar style and have comprehensive content for guitarists of any level of skill.
Jamplay also showcases a growing archive of video lessons that is updated regularly. What's more, they also offer detailed tutorials for members to learn well known songs with the help of precise, dynamic tabs and song visualizations.
p.s: We have negotiated a wonderful deal for our readers. Get your exclusive Jamplay coupon code here…
Related Articles