As the proverb goes "You are never too old to learn", this statement is applicable to many things in life and learning the guitar is no exception. If you had always wanted to learn the guitar but don't know where to start, you are at the right place.
Adult guitar lessons are open and easily available to everybody, regardless of age.  In fact, most courses are appropriate for people of all ages. Even if you wish to take up guitar relatively late in life, they are courses that can be tailor-made to suit your needs.
Although the option of learning guitar with a physical guitar teacher is an option for those who learn better with a live person, I would still suggest learning online as it provides great flexibility and huge savings as compared to private lessons.
Am I Too Old to Learn the Guitar?
No one wants to admit that they are getting on in age. It isn't that it's an embarrassing thing—it happens to everyone. What it means is that some things may be harder to do than others; like riding a bike or learning to swim.
These things may seem so easy as a child, but when you get older it becomes difficult to approach them after so many years of not being able to do them. That, and your body changes. It happens to everyone.
Muscles and tendons aren't nearly as flexible anymore, and things that once seemed natural abilities, such as touching your toes, are now things that might need to be worked at due to years of sitting behind a desk or working a nine to five job.
So age may be a factor in all of these things, but is it a factor in learning the guitar? In this article, we'll discuss whether or not it is, and also get into how you can make learning easier in your adult life than it was in your childhood.
Unless you haven't learned to, you may have already read between the lines and noticed that yes, learning the guitar will be harder now that you are an adult than it would have been when you were a child.
But Don't Let This Discourage You…
In fact, it should encourage you. Why? Because as an adult you are blessed with a thing called patience and focus. This is the thing that will make up for your slowly deteriorating fine motor skills that make learning guitar harder than when your motor skills were sharper in your youth.
The first thing you should do is understand that your fingers won't be as limber as you want them to at first. This doesn't mean you'll be moving like a fossil; it just means that muscle memory may take a little bit longer to kick in when learning new patterns.
Below are 2 of the best adult guitar courses to help you get started learning…
Adult Guitar Lessons by Keith Dean
If you want to learn guitar as an adult, those three simple words will lead you to one of the best products on the market. Adult Guitar Lessons is a guitar instructional course fully geared towards teaching adults guitar.
This course is actually a lifetime membership to a site. The site is great for beginner adult guitarists. Lessons range from entry-level to intermediate level. All lessons are constructed of videos, chord charts, and tablature. The site is updated frequently, and since the purchase price is a lifetime membership, you have free access to all of the updates.
The lessons cover songs from the seventies and eighties as well as some songs from even earlier generations. The material is very generation specific; you won't find any new wave music on the site.
From picking and form, to hammer ons and pull offs, even tapping and legato, the site goes over a wide range of techniques for both electric and acoustic guitar. Each lesson is carefully constructed and there are over a hundred video lessons, so you will have plenty of material for quite a bit of time.
The site is great if you have a family, as you won't have to worry about membership renewal fees or anything else; pay once and you are all set. The price comes out to $47. Whether you are retired or a working parent with a full family, this site will give you the tools to develop your skills.
Gibson's Learn And Master Guitar DVDs
The second best adult guitar course is Gibson's Learn and Master Guitar. While this course isn't directly geared towards adults, the content is high quality and covers everything that you will need to learn in order to become a guitarist.
From picking form to guitar soloing techniques, the Learn and Master Guitar system offers a ton of knowledge regardless of your level.
The set starts off at a basic level, giving you all of the tools required to master the start of guitar playing, and moves on to the intermediate/bridging on the advanced side. The set is huge; it contains twenty DVDs, five jam-along CDs, a workbook outlining each and every lesson, and access to a support site. You won't have to worry too much about running out of material, but the downside is that the price of this set is triple the price of a lifetime membership to Adult Guitar Lessons.
Which Course is More Suitable For Baby Boomers?
In the end, the decision between the two should come down to your personal preference. Do you prefer a site or a DVD? Are you more worried about learning guitar songs or learning techniques?
Adult Guitar Lessons is great for the former, Learn and Master Guitar for the latter. Don't be too hasty to choose; take a look at yourself and decide what exactly you are going to do with your guitar time.
Everything You Need to Become a Great Guitar Player…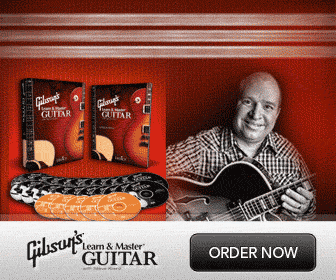 For the most comprehensive step-by-step guitar training program, we highly recommend Gibon's Learn & Master Guitar course. This award winning DVD course is currently having a 3-day sale and you get to save $100 off the usual price today!
Click here to find out more information and get the course before this promotion ends…
Related Articles