Not everyone likes to stay home all year. Some of us like to get up and go, and ideally, we would like to bring our guitars with us. Whether it is a business trip, a holiday, or just visiting our relatives, most of us would like to bring our companion along.
So, How Do We Travel With Our Guitar?
First off, you have to consider your options; carry on, or add as luggage. Now, I know you may be a bit scared about putting your guitar with your luggage, and for good reason too.
Not only is there the risk of damage, but as with anything, there is also a risk of loss. Losing your guitar would be like losing your best friend, and if you are a dedicated guitarist, it is losing your best friend.
If you do choose to risk the luggage way, you will want to get a large, heavy case; one with enough padding and weight to it that you would have to be blind to lose it. And that is the purpose; you want it to be so huge and obnoxious that they can't possibly lose or damage it.
Bringing Your Guitar As Carry-On Baggage
If you decide on the carry-on way, you're in for a treat. First off, you will need an extremely light gig bag. But that's the polar opposite of the titanic case, that doesn't make any sense.
Actually, it does. To carry it on, you need the guitar to look as small and inconspicuous as possible. You also need to board your plane early and hightail it to the back so that you snag a luggage compartment early.
This will allow you to avoid possible damage (unless you are fortunate enough to fly first class, in which case you will have absolutely no issues at all) and allow you the privacy of a personal compartment. Use the rest of your carry-on belongings to fill the compartment or bring the guitar to the front of the compartment to make it look packed.
Why Should You Hog Up The Compartment?
Basically, you don't want people to stuff their junk on top of your instrument.
What if I am too late to snag my own compartment, or am on a small plane with small luggage compartments?
With smaller luggage compartments, you can sometimes fit your guitar in on an angle. If so, then consider your problem solved and take your seat. If you are too late to grab your own personal compartment, or you find that you can't fit the guitar in, simply ask a stewardess.
More often than not they will be more than happy to assist you, and may even be able to store the guitar in a closet or some other small nook where it is out of the way and safe.
Whatever your choice is when boarding the plane with your guitar, simply maintain a polite attitude, as it will go far towards getting you any help you may need, and keep an eye on your instrument.
Some passengers may be in a rush and may try to stuff something on top of your guitar last minute. If so, remove your other bags, place them under your seat, and offer more space so that they don't damage your guitar.
Learn to Setup Your Own Guitar Anytime, Anywhere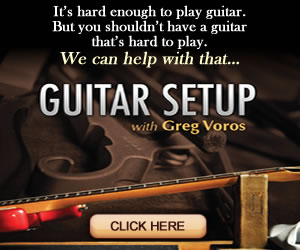 Learn And Master Guitar Setup & Maintenance is a comprehensive step-by-step video course that shows you how to set up your guitar at home using simple tools.
You will be able to save time and money by learning to make your own adjustments for maximum playability and better tone.
Related Articles