You spent a ton of money on your guitar, and let's face it, part of that purchase was aesthetic. No one wants an ugly guitar, and no one wants to make an investment that is hidden away in a closet.
Displaying your guitars can be a fun way to share your investments with others—so long as they don't touch them! If you want to display your guitars, there are a few good ways to do so with different guitar accessories.
Buying a guitar rack is one way, although guitar racks are notoriously easy to knock over and for slipping and causing your guitar to fall.
Another great way, one that is guaranteed to help you display your guitars safely, is a guitar hanger. In this article, we'll talk all about guitar hangers, some of their benefits, and some of their problems as well.
Benefits Of Using Wall Based Hangers For Storage
First off, let's get something out there; if you are looking for a very, very cost efficient way to display your guitars, guitar hangers may not be for you. While they aren't very expensive, looking for the cheapest of all cheap products when it involves hanging your guitar above the ground is a great way to make sure that your guitar winds up on the ground.
If you have a hard time parting with money, and are one of those people who feels the need to chase down the cheapest thing possible, this may not be your best bet. Also, if the walls in your house aren't made out of strong materials, or have no available studs, this is definitely not going to be a good idea for you, so you'd do your best to steer clear of hanging up your prized instrument.
So if you don't mind spending an extra ten or fifteen dollars to assure the safety of your instrument and any little children around your house, and you have good sturdy walls or walls with good studs, then you need to do a little research.
Where To Get A Guitar Hanger
One of the most popular guitar hanger companies is the String Swing company. These hangers are great and are very sturdy, with adjustable cradles and quality construction. But just because we say so, doesn't mean you should go out and buy an armload. Do a little inspection of your own, especially when it comes to reading product reviews.
When you make your decision on which hanger to buy, the next thing to do is, if you don't have walls made of solid wood, find a stud detector and use it to find a stud in your wall. You want to screw the guitar hanger into a stud to keep the potential problem of a chunk of wall tearing off as well as your guitar falling down at the bay.
In the end, hanging your guitars is an easy, affordable, and fun way to display them. All it requires is a little bit of common sense and a little bit of patience as well. If you find you are having trouble finding a stud, it is best to get help, not to guess. Good luck!
Everything You Need to Become a Great Guitar Player…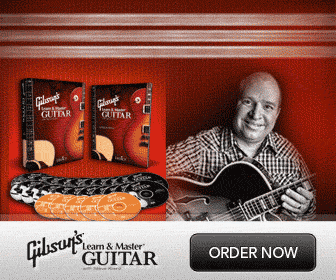 For the most comprehensive step-by-step guitar training program, we highly recommend Gibon's Learn & Master Guitar course. This award winning DVD course is currently having a 3-day sale and you get to save $100 off the usual price today!
Click here to find out more information and get the course before this promotion ends…
Related Articles