For beginner guitar players, jazz can be the most difficult genre to master. Aside from the out of the box approach to composition, this genre has a lot of musicality different from other famous genres.
An example is the swing feel. This technique is used only in the jazz genre, and is very much different from the straightforward feel of pop and rock.
However, if you believe jazz is your genre, then there is no need to be afraid. Everything is possible with constant training and practice.
To start you off, you should be aware of the 5 jazz guitar songs you need to learn. Although the list below is a list of jazz albums, you can find the songs to practice in those albums. The key here is to get you determined enough to endure the painstaking practice for jazz supremacy.
1. The Incredible Jazz Guitar of… by Wes Montgomery
In the wake of 1960, Wes Montgomery was seen as the best jazz guitarist at the time. His works are revived by most of the jazz players of today. This album contains many jazz guitar compositions, and you should try to mimic those notes. Besides, there is no better way to start your jazz career than from the birth of this genre.
2. Joe's Blues by Joe Pass and Herb Ellis
Do not be misled by the title of this album. Most of the songs included in the collection are innately under the jazz category in nature. In that case, you would find it beneficial to learn more jazz tricks in this album. From the combined efforts of their time's greatest jazz players, Joe Pass and Herb Ellis both pushed each other to their excellence.
3. Genius of the Electric Guitar by Charlie Christian 
Although recorded between the late 1930s and the early 1940s, this album still captures how jazz became a genre today. Charlie Christian can indeed help you see how jazz music works. Just a reminder, though. You would need a pair of sensitive ears to appreciate the somewhat hokey quality of the recordings in this album.
4. Bright Size Life by Pat Metheny 
Metheny started his jazz career with this album. Although he produced jazz albums afterward, the Bright Size Life is still considered his best collection. The jazz in this album has been perfect due to his excellence in jazz, and many jazz starters have been able to pick many techniques in this album. You might even be able to find the 5 jazz guitar songs you need to learn in this album.
5. Pure Desmond by Ed Bickert 
Jazz supremacy has never been this subtle. With Ed Bickert's mellow jazz, Pure Desmond is indeed a collection of softer chord choices that complement a great lyricism skill. Titled under Paul Desmond, a saxophonist famed for his skill, this album will surely get your jazz grooves in focus.
Of course, jazz does not just need familiarity to the 5 jazz guitar songs you need to learn. You would also need to gain the skills to play jazz by practicing further.
The Best Tool For Learning to Play the Guitar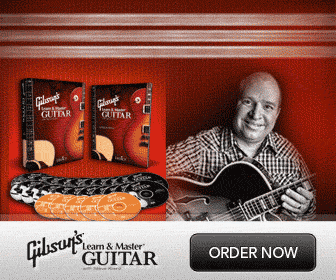 For the ultimate step-by-step guitar system, we highly recommend Gibon's Learn & Master Guitar course. This award winning DVD course is currently on a 3-day sale and you get to save $100 off the regular price today!
Click here to learn more details and get the course before this promotion ends…
Related Articles