Everything has its basics. In sports, such as football, you have basic plays that everyone knows, whether they are college athletes or high school hobbyists.
In martial arts, you have your basic techniques, those techniques that build the foundation for your fighting style, and everyone learns them, from self-defense learners to professional fighters.
In guitar, there are certain riffs that almost every guitarist learns as a beginner. These are the riffs that have been the building blocks of great guitarists for decades, and they continue to be some of the most popular riffs in all of rock and roll and heavy metal. In this article, we are going to go over the guitar riffs that everyone should know.
Riff One: Smoke on the Water by Deep Purple
If ever there were the most know riff in all of heavy metal, Deep Purple's Smoke on the Water would be that riff. This is a simple riff with an undeniable groove, almost to the point of funk, that can make anyone move their head.
It can also teach a thing about how less is more when it comes to writing guitar riffs. If you want to get a crash course in how to write a smooth, catchy riff, you need to look no further than Smoke on the Water.
Riff Two: Iron Man by Black Sabbath
Just like Smoke on the Water, Iron Man by Black Sabbath is another showcasing of how fewer notes can sometimes be far greater than more notes. In fact, Iron Man is one of the few riffs that could come into competition with Smoke on the Water, as it is undeniably catchy and very much part of the foundation that made heavy metal what it is today. The only thing it is truly missing is that bit of groove which Smoke on the Water has. If you haven't learned Iron Man yet, you better hop on it.
Riff Three: Crazy Train by Ozzy Osbourne
While Ozzy is far from the greatest musician, and has come under a lot of fire for his lack of range and skill as a vocalist, he does make a habit of partnering up with some great musicians. The late great vocalist, he does make a habit of partnering up with some great musicians. The late great Randy Rhoads had an inventiveness with creating riffs that is hard to surpass.
Not only did he have an extensive range of neoclassical influence, but he also had the glam metal flair to his playing, and knew how to use it to benefit the song, rather than to take away from it.
Crazy Train may not be one of the greatest songs, and it has been played to death on the radio stations over the years, but it is a piece of heavy metal history, and it is our third and final guitar riff that everyone should know.
Well, there you have it; three great guitar riffs that everyone should know. So what to do now? Go learn them!
Jamplay – Awesome Teachers, Excellent Video instruction And Community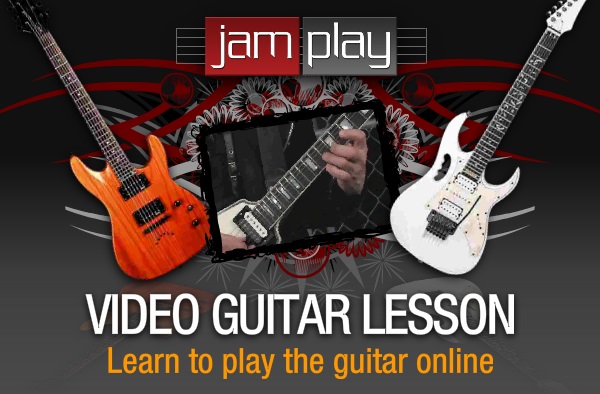 Jamplay is the LEADING online guitar lesson website that offers step-by-step videos in high-definition. They cover EVERY genre of guitar style and have comprehensive content for guitar players of any skill level.
Jamplay also showcases a continuously growing archive of instructional videos that's updated weekly. What's even better, they also offer indepth tutorials for members to learn popular songs with the help of precise, dynamic tabs and song demonstrations.
p.s: We've arranged a special deal for our readers. Get your exclusive Jamplay promotion code here…
Related Articles