Just like anything, the guitar suffers its problems. One of the most common of the guitar related variety is neck problems; more specifically, fret board problems.
The fret board is something that we tend to take for granted. We use it as much as or even more than any other part of the guitar, and yet we tend to neglect it because it isn't really something many guitarists focus on.
After all, when is the last time you sat and thought about a fret board over a guitar that looks nice? Never? That sounds about realistic to most people.
Well, when your fret board is in trouble, there isn't much you can do, but what you can do for guitar fret board repair, we'll help you in this article. Remember; we aren't promising any miracles, and in a lot of cases your best bet is to take your guitar to a professional luthier who does this kind of work for a living.
Assess And Find Out the Degree of Damage
Sometimes, the fret board is just beyond repair, and in that case, your best bet is to buy a new one. Believe it or not, fret boards are not permanently attached to the neck of your guitar, and they can be popped out and switched. This is yet another thing best left in the hands of a luthier, so if you're feeling adventurous, you've had our warning.
Now, here are the things that you can repair on your guitar's fret board; the frets. That is it. You can't fix cracks in the fret board (and if you could, we wouldn't suggest it and we won't teach you how to further damage your instrument), and you can't fix that big ole' gouge that you made last Christmas when you were under the impression that holidays and abnormal guitar skills are synonymous.
As we said above, if these are your problems, take your guitar to a luthier and have them fix it.
Making the Guitar Playable With Fret Height Correction
Now, the most common issue with frets is either rising or having unevenness. These are both fairly easy fixes for even the most amateur repairman. So if these are your guitar fretboard repair problems and you have a steel ruler, a file, and a bit of time, you are set to take them one.
If your frets are uneven, you will need to sand them. If you are using a steel file, make sure that the sides (which can at any time make contact with the fretboard) are sanded down. Tape over the frets, but don't skip that first step; sand down the sides of your file. You don't want to skin your fretboard.
If your frets are rising, the easiest way to get them back in is to pop them in through the use of a steel instrument—preferably one that is flat.
Put even pressure, and do no stand on the guitar or put your entire weight on it; your arms and possibly elbow will be far more than enough. Once finished, use that steel ruler to make sure your frets are level and you're good to go!
Hands Down The Best Program Ever to Be Created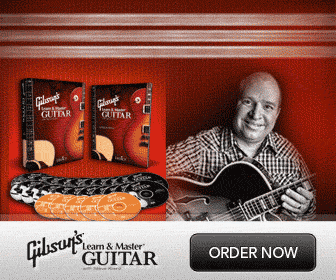 For the most effective step-by-step guitar method, we highly recommend Gibon's Learn & Master Guitar course. This award winning DVD program is currently on a 3-day sale and you get to save $100 off the usual price today!
Click here to learn more details and purchase the course before this promotion ends…
Related Articles