Today, we are going to use the knowledge we had learnt about the minor pentatonic scale to introduce the concept of the blues minor pentatonic scale. If you haven't read the earlier lesson, make sure you complete and fully understand it before continuing in this lesson.
The blues minor pentatonic (aka blues scale) is commonly used by blues guitar players to improvise. If you are into blues and want to play like Jimmy Hendrix or BB King, this is going to be the most vital scale to master.
Compare the Minor Pentatonic to the Blues Minor Scales
A Minor Pentatonic
A Blues Minor Pentatonic
The main difference between the 2 scales is the addition of a flatted 5th note in the blues scale. Even though there is only a difference of one note, this flatted fifth gives the blues scale its signature bluesy sound due to its dissonant nature.
Shapes of the Blues Minor Pentatonic Scale
I know there's a huge amount of scales and musical theory you have to learn and commit to memory. Luckily for you, things are relatively easy here since you can easily derive the blues scale from the minor pentatonic simply by adding a flatted fifth to the scale patterns.
In the following diagrams below, you will see that I'm using the same scale patterns used in the minor pentatonic scale lesson. The difference is the inclusion of the flatted fifth note into the fretboard diagram and it is highlighted in blue.
Blues Minor Pentatonic Scale Pattern 1
Blues Minor Pentatonic Scale Pattern 2
Blues Minor Pentatonic Scale Pattern 3
Blues Minor Pentatonic Scale Pattern 4
Blues Minor Pentatonic Scale Pattern 5
Blues Minor Pentatonic Scale Exercises
Let's have some fun with your guitar now. I'm going to teach you a couple of simple licks and riffs based on the A blues minor pentatonic scale. In both licks, you will need to perform some string bending and I want you to pay attention to the pitching of your bends.
Download .gtp5 or .mp3 file ( Right-click Save Target as… )
Download .gtp5 or .mp3 file ( Right-click Save Target as… )
Besides these 2 licks, I strongly encourage you to experiment with the blues scales and try coming up with some of your own riffs. Remember, Blues is all about playing with feel and the licks do not need to be technically challenging in order to sound good. So, start slow, keep the technical stuff low and let the music flow.
Till then, see you in the next lesson!
Intuitive Lessons For Guitar Players of All Levels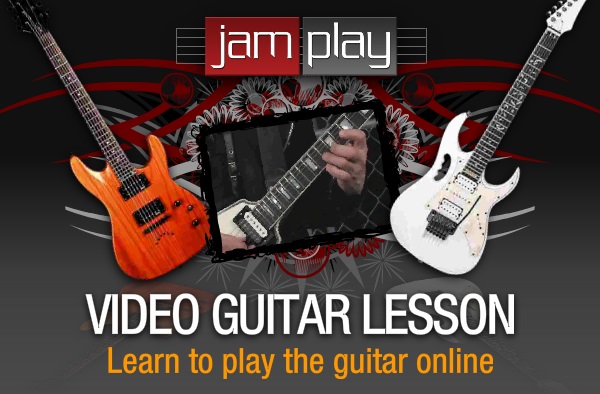 Jamplay
is the
BEST
online guitar lesson website that offers step-by-step videos in hi-def resolution. They cover
EVERY genre
of guitar style and have comprehensive content for guitarists of any level of skill.
Jamplay also showcases a growing archive of video lessons that is updated regularly. What's more, they also offer detailed tutorials for members to learn well known songs with the help of precise, dynamic tabs and song visualizations.
p.s: We have negotiated a wonderful deal for our readers. Get your exclusive Jamplay coupon code here…
Related Articles