For many of you guys out there, playing in a band is the ultimate goal of learning the guitar. Starting a band is not an easy task as it involves many different aspects of organization and commitment to make it work out. In this guitar article, I will share with you some advice that you should consider if you are looking to form a band.
When starting a band, the first thing that you should do is determine which genres of music you will want to play. Do you want to play metal, gothic, classical, jazz …etc?
Do you want to be a cover band or perform your own original songs? By determining the genre and type of music that you would like to play, it will be easier to narrow in on potential bandmates that share the same passion.
The second thing in starting a band is finding your bandmates. Personally, I feel that you should look for people who share similar interests. Friends and family members are great if they share the same interests as you. Alternatively, there are many online resources and forums such as Band Mix that enable you to post ads to look for musicians.
Find The Right People to Start a Band
It is very important to find the right people to form a band. Consider these few factors when selecting bandmates:
1) What is the level of competency of the musician?
2) What are the musical tastes and goals of the musician? Is it aligned with the vision of the band?
3) How can the member contribute to the band musically? For e.g., do you need a drummer, bassist or vocalist? Do you need a songwriter?
4) Do you have any specific age groups of your bandmates in mind? Personally, I am more comfortable working with people of similar age groups as I find it easier to communicate with them.
5) The location of your bandmates and their availability to jam etc…
Once you had gathered up your bandmates, it is time to rehearse and practice. Set aside time to practice with the whole band at least once a week. The only way to get better at something is to PRACTICE. By having regular practice sessions, the band will also gel better together.
Tip: Record the practices of the band and listen to them after the jam sessions. This is one of the most efficient ways to correct any mistakes and improve any parts of the song. Doing so would also help you have effective band rehearsals.
Make Yourself Heard
When the band feels ready to perform, it is time to let your music be heard. Look for opportunities to perform (even if it's free in order to gain experience). Check out any school/office events that your band could perform in. You could also check out local pubs for opportunities for gigs.
Nowadays, you could even record a video of your band playing songs and upload it to Youtube for critique. A very important note is to gather feedback from listeners on how the band could improve its playing.
One of the most commonly heard excuses from many people is that they are not good enough to play in a band. Even if you are not a very good or experienced player, you can still start a band with less experienced players.
My personal experience when I started out playing in a novice band was great. Everyone was growing musically together and we had fun at each jam session. This also accelerated my guitar learning curve as I was very motivated to keep improving in order to keep up with my bandmates.
Ultimately, playing in a band requires commitment and discipline. My final advice is to be patient and allow time for the band to improve. Great bands don't happen overnight. Do keep in mind any feedbacks and opinions that your bandmates may raise and adopt 2-way communications. Have fun!!! Who knows, you might be the next band that makes it BIG!!!
The Best Tool For Learning to Play the Guitar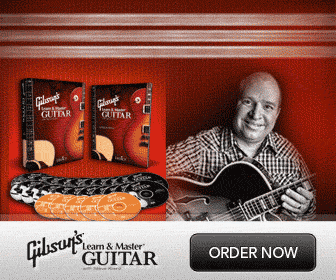 For the ultimate step-by-step guitar system, we highly recommend Gibon's Learn & Master Guitar course. This award winning DVD course is currently on a 3-day sale and you get to save $100 off the regular price today!
Click here to learn more details and get the course before this promotion ends…
Related Articles